By Holly Honderich and Jessica Murphy
in Prince Albert, Saskatchewan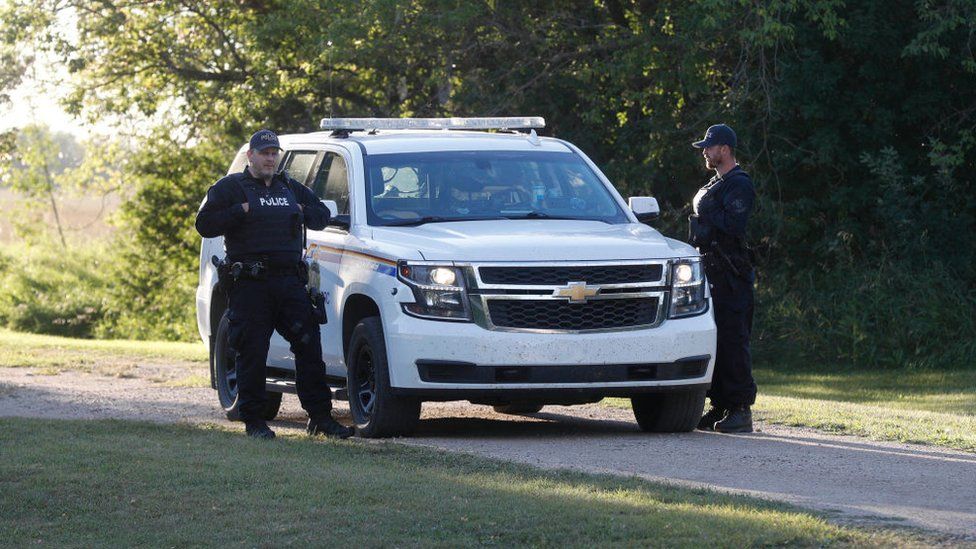 Canada's parole board will review its decision to release one of the men suspected of carrying out a deadly stabbing attack in Saskatchewan.
Parole documents of Myles Sanderson, 32, show he has 59 prior convictions as well as a history of violence.
He was released in February while serving a four-year sentence.
"I want to know the reasons behind the decision," Public Safety Minister Marco Mendicino said. "I'm extremely concerned by what occurred here."
The hunt for Myles Sanderson is in its fourth day following the stabbing attack on Sunday that left 10 people dead and 18 others injured. Ten victims remain in hospital, three of them in critical condition.
The other suspect, his 31-year-old brother Damien Sanderson, was found dead by police on Monday at the James Smith Cree Nation, a close-knit indigenous community in central Saskatchewan. The discovery brought the death toll to 10.
At an emotional news conference on Wednesday, relatives of the victims spoke of the "horror" of the attack that has stunned the country. They were among the first relatives to come forward and speak about their loss.
"We are broken, but we're not defeated," said Mark Arcand, chief of the Saskatoon Tribal Council and brother of Bonnie Goodvoice-Burns. Bonnie, 48, and her son Gregory Burns, 28, were both killed.
Bonnie "took care of everybody" and was "a true matriarch", her brother said, adding that Gregory loved his family and had two children with a third on the way.
With a smile, Chief Arcand said he "didn't like" being in a room with Bonnie and her husband Brian, "because all they would do was laugh at us and joke".
He recalled the horror he felt after hearing the news of the attack, driving alone for two hours to reach his sister and her family at James Smith Cree Nation. Bonnie and Gregory were among nine victims that lived in the community.
"One of the most traumatising things was the visual scene that day," he said.
Bonnie was a "hero", he said, adding that she had died protecting her three young sons. One of the children was stabbed but survived.
"These two young boys woke up to screaming not being able to help," he said. "One of the young boys was hiding behind a high chair watching the whole thing happen."
He continued: "I'm just a kid from the reserve. We didn't want this, we didn't ask for this."
Four days after the stabbing spree, there are still more questions than answers.
It is unclear whether Myles Sanderson acted alone or with assistance, including from his brother Damien. It is unclear why Wes Petterson, and elderly man who lived in Weldon, 30km (18 miles) away, was killed.
Police have said they believe some victims were targeted, but have not offered any information about a possible motive.
It is also unknown where in the province – or in the country – Myles Sanderson is now.
These questions have fuelled intense speculation about the events throughout Saskatchewan – conjecture that was addressed by Chief Arcand directly on Wednesday.
"Don't listen to rumours, innuendos," he said. "Please don't assume."
Parole documents show Myles Sanderson has a decades-long criminal record, including 59 criminal convictions since he was 18, including assault, threats, and robbery. The files also indicate his childhood was marred by violence, substance abuse and other trauma.
The parole board in February said he would "not present an undue risk" and that his release would "contribute to the protection of society" by facilitating his rehabilitation. He has been unlawfully at large since May of this year.
"I am assured that the Parole Board of Canada will be undertaking an investigation of the decision," Mr Mendicino told reporters on Tuesday evening.
"There will be an appropriate time and a place to review policy and resourcing and we need to embrace that review, we need to be transparent with Canadians to make sure that this kind of thing never happens again," he said.
Myles Sanderson now faces multiple charges, including first-degree murder.