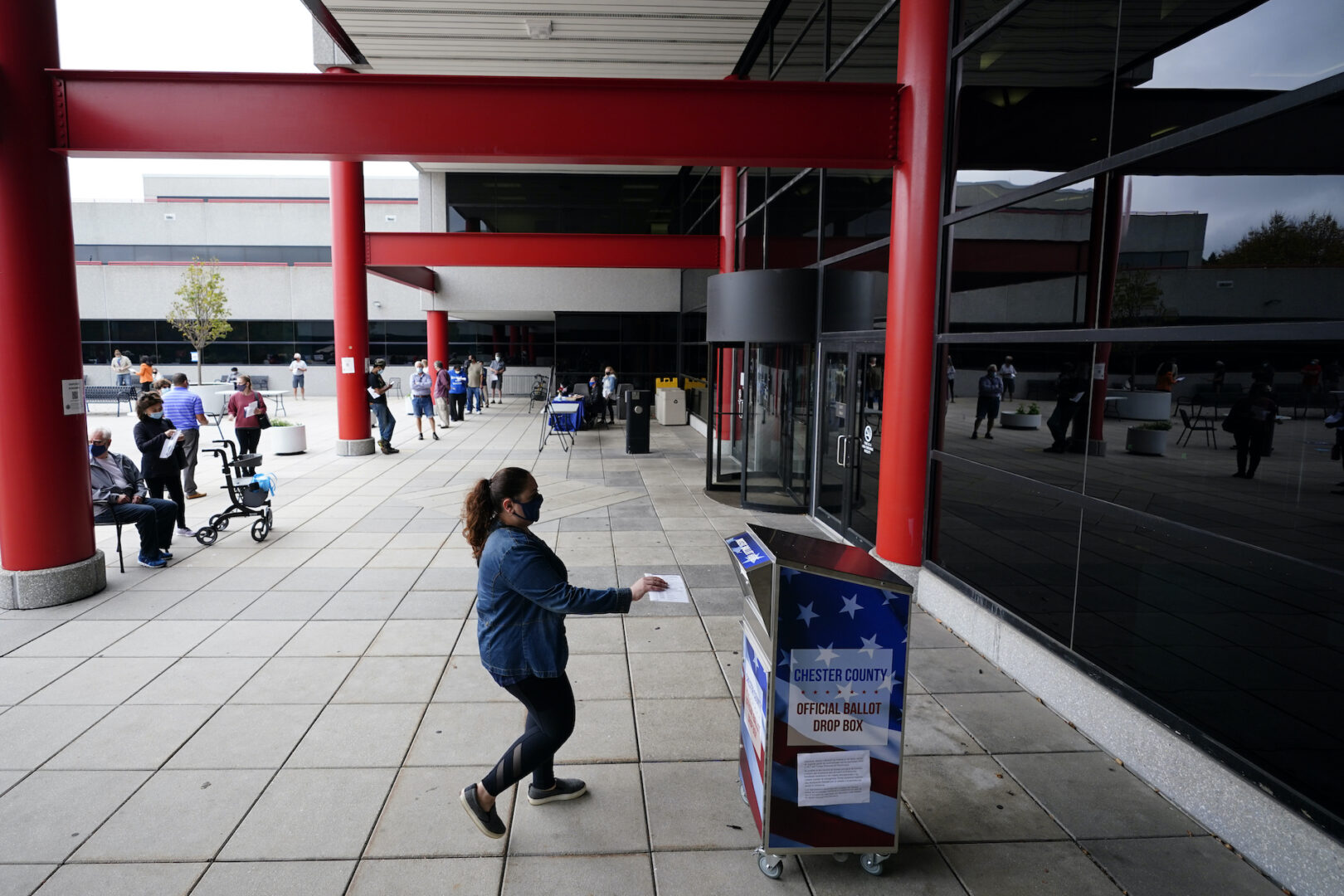 Matt Slocum / AP Photo
A woman drops off her ballot for the 2020 General Election in the United States outside the Chester County Government Services Center, Friday, Oct. 23, 2020, in West Chester, Pa.
No one has cast a vote in the 2022 general election, but lawsuits are already coming in.
Four Chester County residents — James Romine, Daryl Campbell, Sandra Bowman, and William Borton — have asked the Chester County Court of Common Pleas to prohibit the county from using drop boxes to receive mail and absentee ballots unless the boxes are physically monitored to ensure that people deliver only their own ballot.
The group of residents also wants the court to prohibit the county from accepting and counting any ballots delivered by someone other than the voter.
Included in the legal complaint are screenshots from surveillance footage of an unmanned ballot drop box in West Chester purporting to show more than 300 people delivering more than just one ballot for the 2022 primary election in May.
In Pennsylvania, a voter who qualifies for an emergency absentee ballot may allow a representative to submit their ballot on their behalf; for everyone else, delivering more than one ballot is against the law.
"Plaintiffs will suffer irreparable harm in that the void or invalid ballots will dilute their validly cast ballots — and the validly cast ballots of other voters — thereby impinging on their fundamental right to vote under the United States Constitution and their right to a free and fair election under the Pennsylvania Constitution," the legal complaint said.
The residents filed the complaint with the help of Wayne-based conservative firm Zimolong Law and Washington D.C.-based America First Legal Foundation, which was founded by Stephen Miller, former President Donald Trump's senior adviser. Mark Meadows, Trump's former White House Chief of Staff serves on its board of directors.
In a written statement announcing the lawsuit, Miller describes the organization's interest in the case as a "civil rights crusade."
"This is our second lawsuit in 15 days in Pennsylvania, suing election officials for their lawless conduct and egregious violation of Americans' sacred right to ensure their vote is not canceled out by fraud and criminal activity," Miller said.
America First Legal Foundation recently engaged in a similar action against Lehigh County on Sept. 1.
In a written statement to WHYY News, a Chester County spokesperson said that they couldn't comment directly on the litigation. However, the spokesperson provided an update on how the county has been in the process of reviewing and refining the ways in which mail ballots are cast.
"The County has produced, posted, and publicized informational videos on many aspects of the election process, including voting by the legislature's newly authorized mail-in ballot. Prior to the May 2022 Primary, the County also held an in-person information session on the full voting process," the statement read. "We also posted clear signage on every mail-in ballot drop box throughout the county which noted the rules for returning a mail-in ballot."
Last Monday, Chester County Voter Services also finalized details to implement additional efforts for the November 2022 election that will further educate voters on the rules for returning mail ballots. This includes using "brightly colored notices inserted with all mail-in ballots" to explain the rules for returning a mail ballot as well as staffing all drop boxes.
Neighboring Delaware County is also still fighting a baseless election lawsuit from 2020.
The Pennsylvania Department of State is already preparing to defend the state from the next wave of election-related lawsuits. The constant litigation — a lot of which is based on unfounded claims — has cost taxpayers millions.