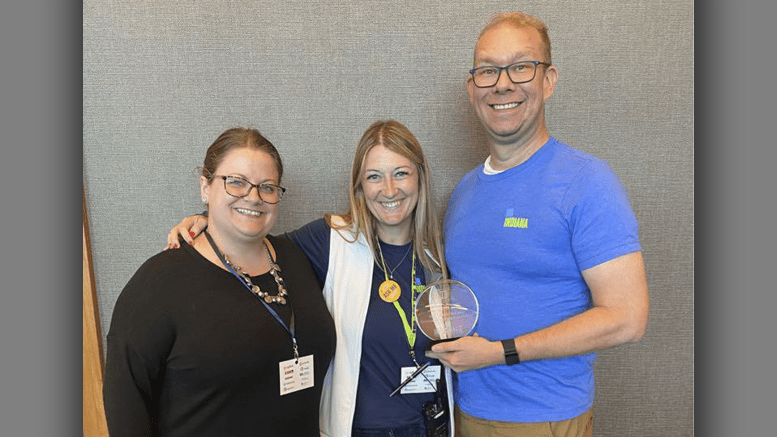 Accepting the award last month in Indianapolis on behalf of ECIHRA (l to r): Madelyn Heskett, Secretary; Kourtney McCauliff, President; James Mitchell, President-Elect.
September 7, 2022
By ECIHRA—
MUNCIE, IN – The East Central Indiana Human Resources Association (ECIHRA) received an important recognition at the recent state-wide HR Indiana Conference, held August 29 through August 31 in Indianapolis, Indiana.
The award for "Highest Increase in SHRM-Certified Members" reflects the organization's commitment to helping local human resources professionals grow and develop, both personally and professionally.
"We were pleasantly surprised to receive this honor and to be recognized in front of 1,500 of our peers from across the state," said James Mitchell, ECIHRA's President-Elect and Director of Programs.  He went on to say that "Personally I have benefited greatly from pursuing my SHRM-CP credential. It has helped me to be a better HR professional for my employing organization and in supporting human resources staff across other organizations through ECIHRA."
ECIHRA invites all of the region's HR professionals and those with HR functions as part of their current job to attend our monthly professional development workshops and to consider joining the organization.  Some highlights of the upcoming program content include presentations on
Results through Relationship Intelligence (including a free assessment), October 12, 2022
HR Office of One, November 9, 2022
The Emotional Intelligence Employee Development Blueprint, January 11, 2023
Interested professionals can learn more about the organization, how to join, and how to attend our upcoming events at our website.
About ECIHRA
The East Central Indiana Human Resources Association (ECIHRA) assists HR staff and leaders in this region of the state of Indiana. ECIHRA is an affiliate of the Society for Human Resource Management (SHRM), the largest organization in the world that serves the HR profession. www.ecihra.org 
SHRM, the Society for Human Resource Management, creates better workplaces where employers and employees thrive together. As the voice of all things work, workers and the workplace, SHRM is the foremost expert, convener and thought leader on issues impacting today's evolving workplaces. More than 95% of Fortune 500 companies rely on SHRM to be their go-to resource for all things work and their business partner in creating next-generation workplaces. With 300,000+ HR and business executive members in 165 countries, SHRM impacts the lives of more than 115 million workers and families globally. Learn more at www.SHRM.org and on Twitter @SHRM.