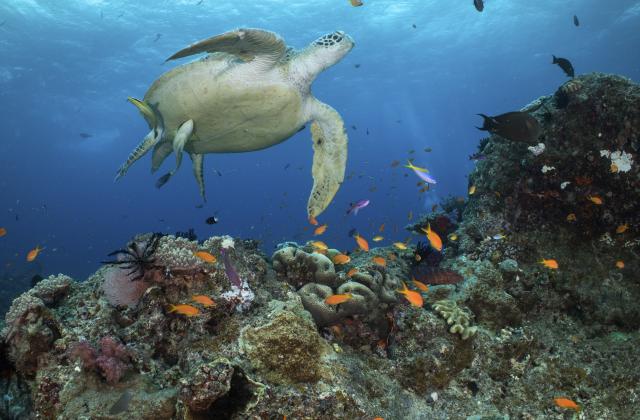 Holiday makers on the Great Barrier Reef are being urged to follow the rules in the Marine Park after a recreational fisher was fined $2220 for fishing in a designated 'Green Zone'.
Great Barrier Reef Marine Park Authority (Reef Authority) Director of Operations for the Reef Joint Field Management Program, Chris Cochrane, said the fisher was caught breaking the rules during a school holiday trip.
Mr Cochrane said while most people do the right thing, compliance breaches tend to spike during the holidays, and he's urging recreational fishers to know their zones when out on the water or risk a costly fine.
"Our compliance patrols will be out in force day and night over the September school holidays and the October long weekend, particularly at known illegal fishing hotspots," he said.
"Ignorance is no excuse in the Marine Park. Recreational fishers need to know the law and follow it.
Those unfamiliar with the Reef are particularly warned to stay away from no-take green 'national park' zones where fishing is prohibited, and know the rules around yellow, orange, and pink zones.
"People should plan their trip before leaving home using the zoning maps which are available on the Reef Authority website, or pick up a free copy at your local tackle store, and by downloading the free Eye on the Reef app.
"The app is particularly useful when you're heading out in the Marine Park as it works outside of mobile range to pin-point on-water location, identify the zone, and what activities are allowed there."
The Reef Authority has a strong commitment to protecting the World Heritage Area from illegal activities and has a no tolerance approach to any form of poaching in Marine Park zones.
"Marine Park rules are ultimately in place to aid the resilience of the Reef and ensure we can continue to enjoy it into the future," Mr Cochrane said.
"Just a small amount of illegal fishing can have serious impacts on fish stocks, biodiversity and Reef health.
"The Reef experienced another mass bleaching event this year and working with our partners through important programs such as Reef Joint Field Management and controlling outbreaks of crown-of-thorns starfish helps build Reef resilience and aids recovery time from such events.
"It's important for everyone who visits the Marine Park to consider the important role they can play in protecting the Great Barrier Reef."
More information about Marine Park zoning can be found on the Reef Authority website.
Suspected illegal activity can be reported to 24-hour free hotline 1800 380 048, or online at Report an incident