EACH MONTH we have a staff lunch at All Dogs Gym when we talk about something of interest to the staff. Often it will be a presentation on a topic that they ask about, or one that helps staff — especially new staff — understand why we do what we do. Last month the topic was basic training using a behavior marker.
We've been using marker training (also referred to as "clicker" training) since the late 1990s. In the beginning, dog owners and trainers who used other methods expressed skepticism about whether or not marker training will work for their dog.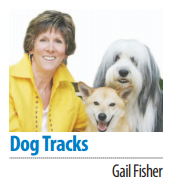 Gail Fisher, author of "The Thinking Dog" and a dog behavior consultant, runs All Dogs Gym & Inn in Manchester. To suggest a topic for this column, which appears every other Sunday, email [email protected]. com or write c/o All Dogs Gym, 505 Sheffield Road, Manchester, NH 03103. Past columns are on her website.