Donald Trump has said his wife Melania Trump "felt very violated" after FBI agents raided his Mar-a-Lago resort for classified documents.
Asked how Melania felt about the raid, the former president told Newsmax's Wake Up America show on Tuesday: "This is a terrible thing. They go into her closet, they go through her dresses and who knows what else.
"And it wasn't left the way they found it. I didn't walk into [my room] and say, Oh, this is so nice. The way they put it back. I think it's a disgrace that a thing like this could happen."
Newsweek has contacted the FBI for comment.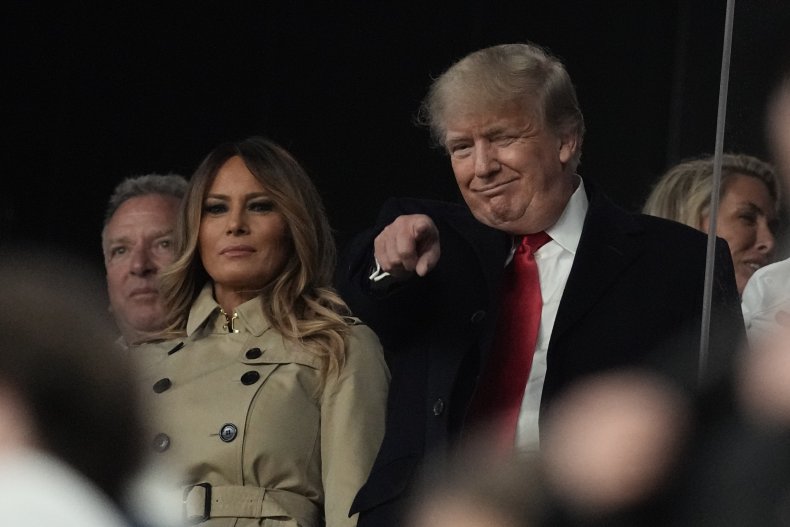 About 11,000 documents were recovered during the raid on August 8, the FBI said.
That included more than 100 marked classified and at least 18 marked "top secret." Another 48 folders marked classified were empty.
Donald Trump has previously accused FBI agents of having "rummaged" through Melania's closet during their search of his Florida home, which he said was left it "a mess" and has criticized agents for not taking off their shoes in his bedroom.
At a rally in Pennsylvania, on September 3, Trump also alleged federal agents carried out a "deep and ugly search" of his and Melania's 16-year-old son Barron's room and left "everything they touched in far different conditions than it was when they started."
Eric Trump, the ex-president's second son with his late former wife Ivana, had vowed to release surveillance footage of the event "at the right time."
Asked about releasing the tapes, Donald Trump said he was advised not to "because of the safety of the FBI agents that swarmed the place."
The ex-president has repeatedly denied any wrongdoing in removing documents from the White House, which he says he declassified before leaving office in January 2021.
"They're trying to make such a big deal because what they want to do is politicize everything," he said. "Everything's got to be politics."
Earlier this year, the National Archives—the government agency to which outgoing presidents are required to transfer documents and emails—said it had retrieved 15 boxes of papers from Mar-a-Lago which should have handed over.
The boxes contained paperwork "marked as classified national security information," triggering the further search of the Florida resort.
Raymond Dearie, a senior U.S. district judge for the Eastern District of New York, has been appointed special master to determine if any of the documents seized from Trump's home are protected by attorney-client privilege or executive privilege.